Description
Stronghold Chuck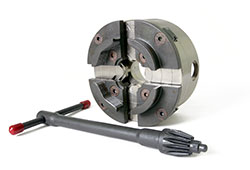 The stronghold is the heaviest Oneway chuck. The diameter of the body is about 13 cm. This heavy duty Chuck is designed for super grip on larger pieces of work. The chuck comes standard with ribbed nr. 2 pelvis a worm screw and an adapter for on the shaft of your lathe. In the Pulldown menu, choose the screw thread of your lathe.
Oneway Stronghold chucks:
Are made of high quality steel.
Have ' nickel plated ' bodies.
Have hardened pelvis and tooth wreath
Have ' manganese phosphate ' coated scroll. For pleasant grip and against rust.
With Single-Hand control of the tooth wreath key.
Have the patented Over-Extension Safety System. This ensures that the pelvis during the work does not loosen the body.
Come standard with the universal ribbed pelvic number 2.
Come standard with a heavy worm screw.
Robust design. The different parts can be
To give the Stronghold chuck a fixed place if IE is not on the lathe there is a handy attribute available.
Choice of other pelvis
For the Stronghold chuck there are several cymbals available. Click here for an overview of all the pelvis.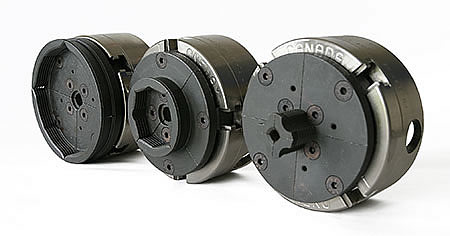 Spigot Basin-Small swivel work
Nr 3 and Nr 4 cymbal-for scales and vases. This pelvis can be supplied both smooth and ribbed.
Nr 5 and NR 6 cymbal-for large scales. This pelvis can be supplied both smooth and ribbed and are made in aluminium
Jumbo pelvis-For the finish of the soil for example scales.
Flat basin-To create your own shape
The Stronghold Basin and the Talon Basin are not interchangeable.
| | | |
| --- | --- | --- |
| Stronghold Chuck (complete) | 2137 | €289.00 |
| Body Only (without pelvis and worm screw) | 3042 | €239.00 |