Description
The Easy-core system of Oneway (the bowl saver) is a unique method for extracting more bowls from the same piece of wood. It is fast, adequate and safe. Https://www.youtube.com/watch?v=h_ZA2zB6kj4
Why the Oneway scales plugs?
It saves time. Scaling stitches goes faster than eroding with a scaling guts.
It saves energy. It also costs you less energy than to erode with a scaling guts.
It saves wood. Instead of 1 scale you can now get 5 or 6 scales from the same piece of wood.
It saves curls. A large scale eroding gives you a few garbage bags full of curls on it. Working with the scales plugs gives you a shopping bag with curls.
Low vibration. The knife of the scales cutter always supports the curved chisel support.
Because the path of the knife is defined, the knife can be in and out as many times as you like. This is often useful to unload the wood curls.
The shape of the chisel makes sure that there are virtually no ' hackers '.
multiple shapes possible. (with a large knife a flat dish can be lit)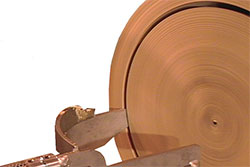 The Oneway scales plug has a base plate (which you can order here), 4 knives and 4 curved chisel brackets. The largest has a maximum diameter of about 46 cm. That means that the scale will have an inner diameter of approximately 46 cm.  The smallest gives a diameter of about 20 cm. (but smaller can also still) The system fits almost any lathe with a center height between 20 and 35 cm. Requirements are that the bed of the lathe is flat and the engine at least 1 KW (1.5 hp). The Easy Core has a replaceable ' cutter ' made of HSS CPM M4. If you have ordered the knives click here for the base plate.
For a good passing of the base plate on the bed of the lathe you need a klembok. You can find the right clamp block here.
If you choose: "Complete set" please indicate what clamp block you want and what the center height of your lathe is.

More information?
Make an appointment with Ronald kanne to see the system in operation. Click here.
 These are the different parts from which to choose is:
9 "Knife Set-Knife number 1

3199

€145.00

11.5 "" Knife Set-Knife number 2

3200

€160.00

13 "Knife Set-Knife number 3

3201

€175.00

16 "Knife Set-Knife number 4

3202

€185.00

Extra Cutter

3106

€29.95

Extra Clamp Block

€14.95
| | | |
| --- | --- | --- |
| 1 x Base (16, 18, 20, 24 or 26 ") and 4 knives sets, instructional video and a clamp block. |   |                                                       €795.00     |
Videos about the Easycore system: here.